google map compilation of synchrotrons worldwide available via lightsource.org
On February 21st, two weeks before the next deadline for calls for MAX IV beamtime, Alexandr Talyzin at Umeå University held a webinar titled, -MAX IV new users: introduction and updates.
Alexander Talyzins research is focused on graphene related materials both as fundamental research and for energy storage applications. He is also a member of the MAX IV reference group for Umeå University with a task to work on popularization of MAX IV and later also ESS. In this role he is giving seminars and webinars to inspire more scientist to take the leap and make use of the fantastic possibilities available through recourses such as synchrotrons.
Seminar outline
Whyto usesynchrotrons?
MAX IV : briefintroduction
Nextcall for proposals: howto apply
Beamlines: short reviewofinstruments and methods
Examplesof research results.
I think in general awareness of the possibilities within life science is quite low, outside structural biology of course. It is easy to believe the methods concern only standard spectroscopy, but in recent years the developments in Imaging give possibilities that never existed before. There is a lot more than standard characterization of material that can be done now, Alexandr explains.
Running experiments through calls is in a way complicated. You must apply to get access, two times a year, and wait to get notice. The upside is once you get in, it´s free, and some facilities even cover travel expenses for several people/beamtime. Obviously, you must have a great idea in the first place off course, only 10-25% of applications are selected.
Once you have a good idea and an application, you should apply to several synchrotrons. Alexandr describes the different facilities thought Europe, how may beamlines they have, how strong the x-rays are etc. For example, we have MAX IV here in Sweden, Lund, with 16 active beamlines, Petra III in Hamburg, Germany, also with 16. ERSF in Grenoble, France is the strongest source with 48 beamlines. Elettra, in Triseste, Italy has 26 beamlines, it is not the strongest X-ray source, but that is not always necessary or desired for the samples you have.
From a life science perspective, Alexandr mentions the development within Imaging as the most exciting area in recent years. Now one can study living cells in vivo and scan through a whole mouse and layer by layer look at what is inside with tomography. There are also examples of imaging of chemical composition, in several dimensions, in material such as wood enabling studies of how environment affect the three. There are beautiful examples of how history of contamination changed over time after the Fukushima disaster with maps of chemical elements and how they penetrate threes.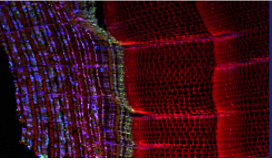 I am very lucky I started with this type of experiments already during my PhD studies. It is a great community to be part of, and the research is very addictive, says Alexandr.
Alexandr has used most synchrotron infrastructures in Europe through his career, he even went to Chicago (the Advanced Photon Source, APS) once. In his presentation Alexandr summarizes recent applications made possible at MAX IV beamlines such as DanMAX, NanoMAX, ForMAX and CoSAXS and different tips and tricks to write fruitful applications. Apart from traditional twice a yes applications there are also a new type of proposals available. This is called fast access (for some beamlines). This allows short notice proposals for short experiments (1 6 shifts) and can be used for both feasibility studies and scientific experiments.
The webinar concluded the process and the different steps to submitting a proposal. The big take home message is to always contact the responsible beamline scientist to discuss the project beforehand.
Beamline scientist are very friendly people, always contact them before submitting your proposal, states Alexandr.
Don´t forget, next call to submit proposals to MAX IV will be in September 2023
---
Further information
Contact: Alexandr Talyzin, Alexandr.Talyzin@umu.se
Recent publication by Alexandr Talyzin: Temperature dependent intercalation of molten 1-hexadecanol into Brodie graphite oxide
Webinar organisers: SciLifeLab Site Umeå and Chemical Biological Centre (KBC), description: MAX IV new users: introduction and updates – Alexandr Talyzin
---
Research infrastructure
---
Are you interested in using a research infrastructure, but not sure where to go or who to talk to?